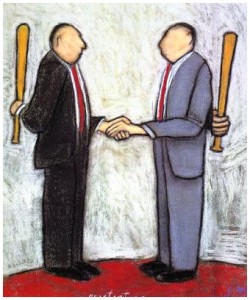 It's there in the design brief: the problem your client wants you to solve. But whether your objective is to create an advertisement, exhibition or public announcement, sometimes you and the client aren't quite on the same page about what exactly the best design solution is. OC Photographer asked a great question about the collaborating and negotiating side of graphic design when it comes to dealing with clients. Today we're focusing on the negotiating side of handling disagreements.
Ways to Negotiate
Show your skills. Now is the time to use the expertise gained from your graphic design education. You need to be able to explain clearly to the client why the visual/layout/typeface you've chosen is the best way to connect with their target audience. You've learned color theory, design theory, cross-cultural communication, etc. at graphic design school, so be willing to defend what you've created.
Show your knowledge. If research will back up your claims, do it! Facts and figures speak louder than opinions.
Bring samples. When you're defending one particular design over another, it helps if your client can see other ideas you've rejected. Particular adjectives such as "masculine," "subtle," or "attention-grabbing" may not mean the same thing to different people.
Check your attitude. If you've approached the problem with the attitude that you, as the creative designer, know everything, and your client knows little, it becomes hard to establish trust. If you listen humbly and are willing to show that you are taking their concerns seriously, they are more likely to trust you and listen to your advice.
If you can't negotiate your design idea, sometimes it's time to compromise. Check back on Friday, when we'll take a look at different ways to collaborate.